Meter and Control units are used in Bijur Delimon Single Line Resistance systems. In order to know what a meter unit is "for", it's important to know what the "for" is.
For single line resistance systems, they are designed for light or medium machinery requiring up to 100 lubrication points. Typically, these systems are low pressure, compact, and relatively simple to operate. SLR systems are also available in manual and automatic to meet nearly every industrial application.
Which brings us back to the topic at hand. What is a meter unit?
Meter units are oil proportioning devices for cyclic systems. Meter units control each outlet of a lubricating system. They also deliver known amounts of oil, that is dispensed via the lubricator throughout the distribution network, to bearing points.
When ordering, the first letter of the meter unit identifies the thread type of the unit. Units that begin with "F" (FJB, FJD, FJC) denote inch threads. Meanwhile, units that begin with "A" (AJB, ASA) signify metric threads.
The following letters and numbers indicate the "type, location, & mating parts" (either B, J, K, R, S, T) as well as the "flow rate" (extra slow, slow, medium slow, medium, medium fast, fast, extra fast, extra extra fast).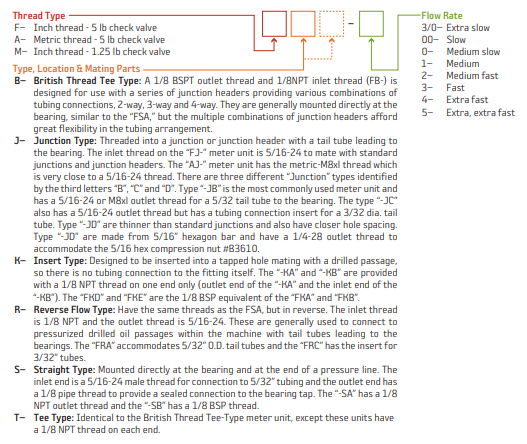 For more help placing an order or technical questions call L. Dewitt McCarter, Inc. at (210) 494-1997 or send an email to sales@ldewitt.net.
Recent Posts
Throughout the years, Bijur Delimon have established themselves by creating a wide product range tha …

Implementing a Bijur Delimon lubrication system enhances equipment life and decreases wear on v …

Meter and Control units are used in Bijur Delimon Single Line Resistance systems. In order to k …